Furniture / Small furniture
WOOD CONSOLE - CONSOLE DESIGN - GICOGNE TABLES - SMALL FURNITURE FURNITURE
Wide choice of small quality furniture, wooden nesting tables, design consoles et wooden console, cherry wood console ou design console in bleached oak.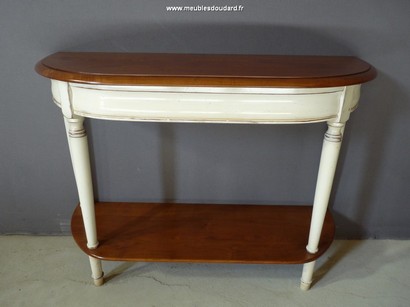 Cherry console Louis Philippe GO
Solid cherry console entry cabinet Louis Philippe style.1 drawer in the doucine, double plate.2 Dimensions: W 75 x H 77 x W 33 cm. L 104 X H 77 x P 37 cm.Console Louis ...

Console 2 drawers in bleached oak and ceramic BPZ
Entrance or living room console 2 drawers with a ceramic top and tray in modern and contemporary solid oak style.Dimensions: L 100 x H 80 x 35 cm.Production of quality: ...

SOFA BUTT BAR with RANGE CD MERISIER REF BC05M
Cherry bookshelf. Cherrywood 2 100 solid french seat, sofa end version bar: 6 bottles. version range CD: 80 CD. 1 zipper on the top. 1 tablet ...

SOFA BUTTLE DOOR REVIEWS REF BC04M
Magazine rack in solid oak from France ref BC04 M dru, 2 drawers CD storage, DVD magazine rack on 2 sides, Dimensions: L 57,5 x H 50 x P 36 cm. Mortise and tenon joints, manufacturing ...

OVAL SADDLE DOOR REVIEWS REF 0003
Beautiful oval saddle magazine rack in cherry or solid oak ref GO 0003. Dimensions: L 52x H 64 x P 38 cm. This saddle is an essential complement of your living room ....

CONTEMPORARY CONSOLE REF SO10 OAK
Contemporary console ref SO 10 in oak and solid walnut, 1 drawer and 2 niches + 1 lower tray. Dimensions: W 130 x H 75 x W 41 cm. walnut inlay in the feet. Oak hue ...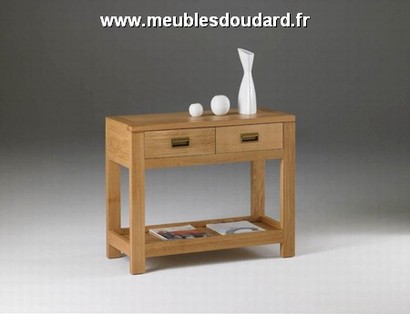 CONSOLE 2 DRAWERS REF AL18 OAK
Superb console 2 contemporary drawers ref AL 18 solid oak, 1 double tray. dim: L 90xH 75 x P 40cm handcrafted in solid oak 100%. This collection will give your home ...

CONSOLE 3 DRAWERS REF AL15 OAK
Superb modern console 3 drawers ref AL 15 solid oak, 1 double tray. Dimensions: L 140 X H 75 x P 40 cm handcrafted oak 100% solid. Hue and natural oak finish ...

COMPUTER CONSOLE REF CO04M DRU MERISIER
Solid cherry wood console from France ref CO04M DRUle drawer bottom is made of various solid wood from France. Oak manufacturing possible, stipulate when ordering. Dimensions: L 100 x H 78 ...

CONSOLE 2 DRAWERS REF LO GO MERISIER LACQUERED
Beautiful 2 curved console drawers ref Louise cherry 100 France massive, carved entirely by hand in the rules of art, and lacquered white and cherry finish. Dimensions: L 151 x H 81 ...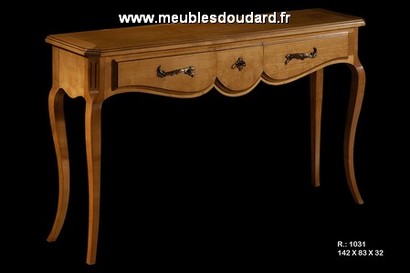 CONSOLE 3 DRAWERS REF R 1031 MERISIER
Superb saber feet console ref 1031 100 solid cherry 3% Traditional manufacture: tenons and mortises, XNUMX drawers mounted dovetail. Front and side in cherry wood ...

TABLES GIGOGNES REF CATHY
Nesting tables ref Cathy solid cherry France Louis Philippe style. Dimensions of the largest: L 60 x H 60 x 41 cm; Traditional manufacturing: assemblies ...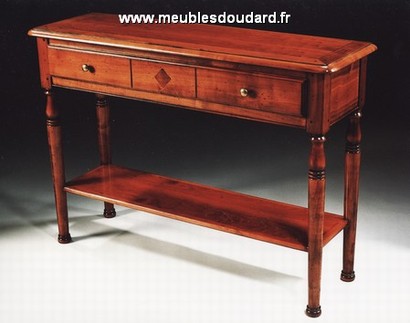 APPLICATION CONSOLE REF PAULINE MERISIER
Pauline French solid cherry solid wood wall lamp, Louis XV style, 1 drawer, 1 tablet. Dimensions: W 110 x H 78 x W 34 cm; Traditional manufacturing: post assemblies ...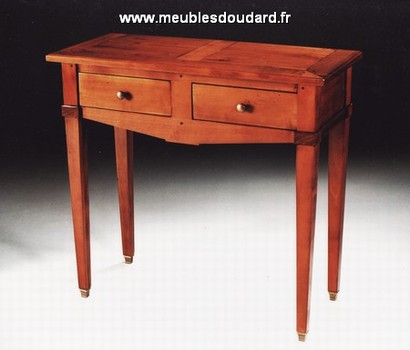 CONSOLE MERISIER REF MARYLENE
Solid Marylene solid wood framing console from France Directoire style, 2 drawers. Dimensions: W 80 x H 75 x W 35 cm; Traditional manufacturing: mortise and tenon joints, ...