Furniture / Office / Office chairs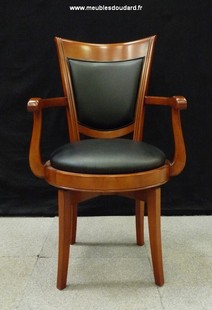 Cherry rotary armchair ref Bordo
Superb rotating office chair in solid cherry ref BordoHigh-end manufacturing: Assemblies mortise and tenon.Cabry 100% Massif.The seat and backrest are upholstered with ...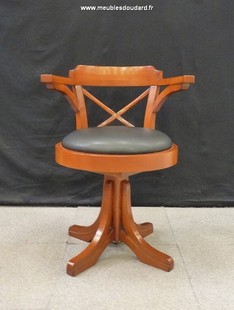 Swivel armchair in cherry ref Margot
Superb cherrywood office armchair Ref MargotHigh-end manufacturing: Assemblies by mortise and tenons.Manufacture in solid 100% birch.Assise and back rotary.Assise very comfortable ...

Office chair rotating cherry Directoire
Office chair in solid cherry wood Directoire style.Wheelchair on wheels, and adjustable height.Assise black leather, back caning.Dimensions: L 59 x H 96 x P 47 cm.Height ...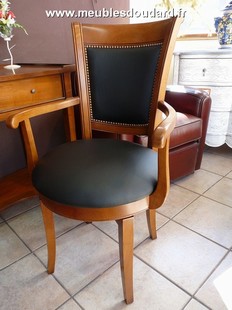 ARMCHAIR ROTATING OFFICE IN CHERRY REF 107
Office swivel chair, swivel ref 107 solid birch of France, seat and back in black calfskin. Dimensions: W 57 x H 93 x W 55 cm. Depth of the seat 43 cm. Wild cherry tree ...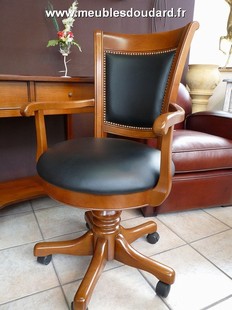 ARMCHAIR OFFICE WITH ROLLERS ROTATING IN CHERRY REF 128
Rotating office chair with wheels 128 ref solid birch France.Assise and backrest in genuine cowhide leather. Dimensions: W 57 x H 93 x W 55 cm. Density of the 30 seat ...

ROTARY DIRECTORY OFFICE CHAIR REF YANN
Directoire office armchair rotating beech ref: Yann.Dos caned and seat upholstered in black or burgundy leather.Fordered feet Directoire.Fabrication traditional chair assembled by tenons and ...