Furniture / Bookcases / Bookcases 4 doors
4 Wooden Bookcase Doors - Customized Bookcase
4 oak doors bookcase ou solid cherry Louis Philippe style, directoire style, Louis XVI style, Louis XV style, rustic, Contemporaneous, normand


Clearance
-15%
directoire bookcase 4 modular doors in solid oak
Superb modular directoire bookcase 4 doors in solid oak.Dimensions: L 245 cm x H 227 cm x D 45,5 cmDimension of the central niche: L 105 cmDimension of side niches: L 60 ...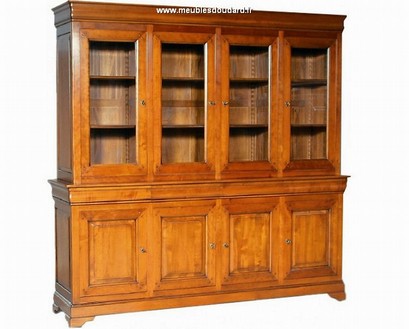 Library 4 glazed doors louis philippe ref MA
4 bookcase with glass doors, 4 drawers and 4 doors in Louis Philippe style.Mark of solid France, background and shelves in various solid wood.Dimensions: L 235 X H 225 x P 52 cm.Manufacture ...

Cherry TV Library Kathia
Solid cherry bookcase in Directoire style with 2 sliding elements to double the storage space for books or to hide a TV. She is...

Library Directory oak with scale
Directoire style bookcase with solid oak ladder from France.Manufacture in solid oak, custom made possible.Dimensions: L 240 X H 240 x P 55 cm.Manufacture ...

4 Directoire Rhombus Reference Bookcase GO
Cabinet 4 doors in advanced style Directoire style solid birch of France.Fond and shelves in chestnut or solid ash.Losanges carved on uprights.2 drawbars ...

4 bookcase Louis Philippe doors in cherry wood ref 7001 DES
Bookshelf furniture 4 doors, 4 solid cherry drawers from France, solid chestnut wood background and shelves.High section: 2 glass doors + open part in the middle with 3 adjustable shelves.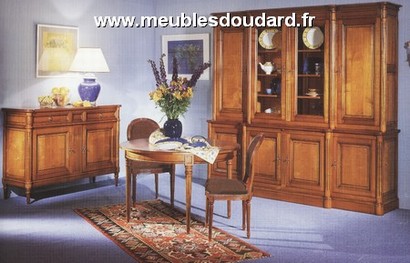 LOUIS XVI LIBRARY REF 200134
4 bookshelves with advanced body Louis XVI ref 200134 in cherry of France Massif,. Interior in solid beech, adjustable shelves on racks and wooden cleats. Bevelled windows. 1 zipper ...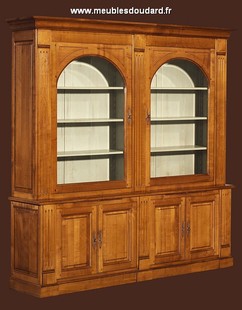 4 LIBRARY DIRECTORY DOORS REF R1025 LACQUERED AND MERRY
Sublime library 4 doors down + 2 doors up ref 1025 100 lacquered ivory and French cherry 2 solid XNUMX, solid wood zippers. Traditional manufacture: tenons and mortises, facade ...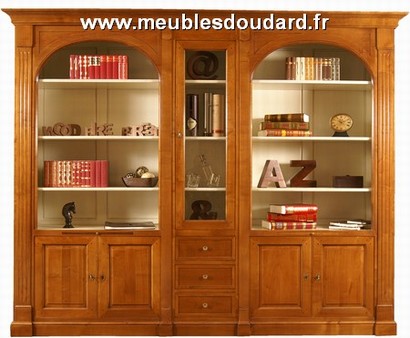 4 LIBRARY CABINET 3 DOORS DRAWERS REF. R1040 MERISIER LACQUERED
4 bookcase with doors at the bottom + 1 door at the top ref R 1040 lacquered ivory and cherry from France 100% solid Traditional manufacture: tenons and mortises, 3 drawers mounted with tails ...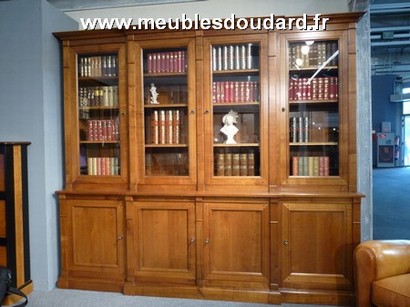 BOOKMARK DIRECTORY MERISIER REF 5040 GO
Superb Library Directory ref 5040 GO 4 doors with advanced body.Merisier solid France.Le back and back and separations are solid beech and chestnut. Adjustable shelves on ...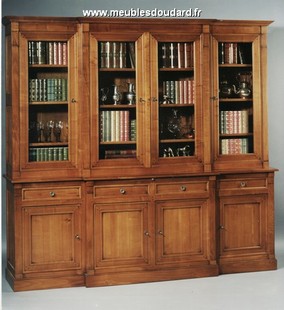 4 DIRECTORY BOOKMARK ADVANCED BODY DOORS
Superb 4 Bookcase Directoire style with advanced body and 4 drawers.Merisier solid France.Fonds, partitions and shelves are solid chestnut.Shelble adjustable on ...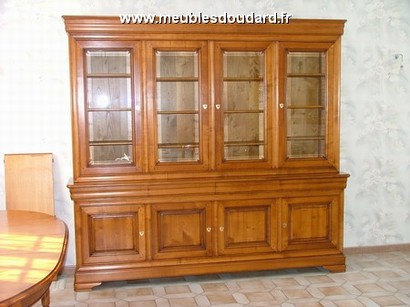 LIBRARY LOUIS PHILIPPE 4 DOORS
Superb library LOUIS PHILIPPE 4 doors, 4 drawers in yoke, cherry of France 100% solid.Dimensions: L 245 X H 220 x P 55 cm. Back, backs, partitions and shelves in solid beech, ...