Furniture / Bedrooms / Dressers
Chest of drawers - Chest of drawers - Chest of drawers
Online sales of bedroom dressers et cherry chest of drawers ou chest of drawers in solid oak et Norman dressers, chest of drawers ou dresser with doors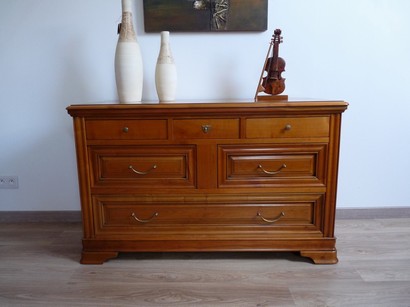 6 chest of drawers Louis Philippe style solid cherry
Chest of drawers 6 Louis Philippe style drawers.Bedroom drawers Louis Philippe style solid birch.Size: L 135 cm x H 82 x cm cm 57 cmProduction of quality: Assembled ...

Louis Philippe Commode 5 cherry drawers ref GO4301
Louis Philippe style chest of drawers in solid cherry from France, solid chestnut base.Chest of drawers Louis Philippe style bedroom 5 drawers including 1 drawer in the doucine.Manufacture of ...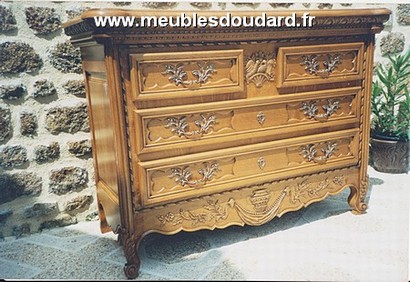 CHEST DRAWERS BAYEUX REFRIGERATOR
Beautiful NORMANDE chest of drawers ref BAYEUX solid oak of France, 4 drawers, Handmade sculpture in the rules of the art in our workshops. (Observe ...

Clearance
-40%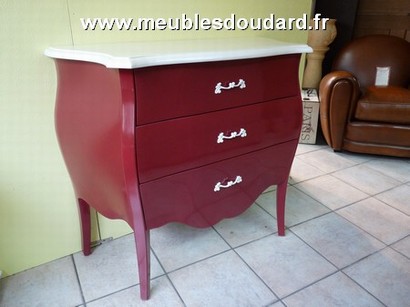 3 DRAWERS DRESS LACQUER RASPBERRY
Splendid chest of drawers 3 drawers Louis XV in handcrafted color, solid wood interior and solid oak for the facade, side and feet. Dimensions L 98 X H 86 x P 45 cm.Drawers on ...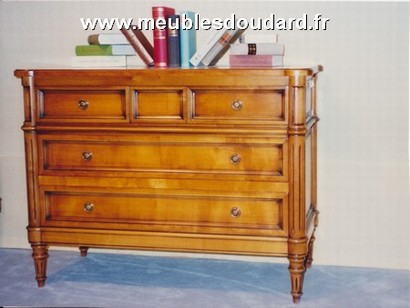 5 DRAWERS LOUIS XVI MERISIER
Beautiful chest of drawers 5 drawers LOUIS XVI ref 200380 solid cherry wood of France style LXVI, column legs and grooves. Dimensions: L 110x H 84 x P 52 cm. Traditional manufacturing: ...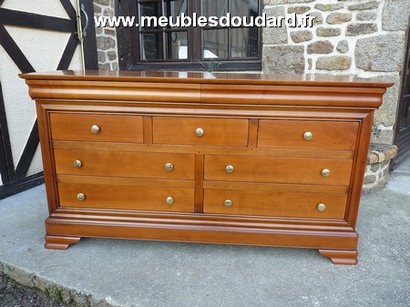 9 DRAWERS CHEST LOUIS PHILIPPE DRAWERS REF PATRICIA MERISIER
Beautiful Louis Philippe 9 trouseronnière drawers solid cherry of France, bottom, back in solid chestnut. Traditional high-end manufacturing, mortise and tenon joints, tails ...

DIRECTORY COMMODE 4 DRAWERS REF. GO350 MERISIER
Directoire chest of drawers 4 drawers (2 large + 2 small) ref GO 350-ME solid birch of France style DIRECTORY. Dimensions: L 128 x H 81 x P55 cm. Traditional manufacturing: assemblies to ...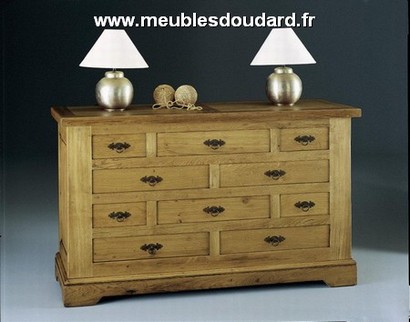 COMMODE 10 DRAWERS REF. ANTAN OAK
10 chest of drawers ref AN 26. handcrafted in massive oak 100% with knots to give an old appearance. Dimensions: L 157 X H 93x P 54 cm Oak color ...

COMMODE ARBALETTE REF. L 3160GO MERISIER
Beautiful chest of drawers called "Crossbow" ref L3160 GO 100 solid french cherry 100%, solid ash XNUMX% drawer bottom. Dimensions: ...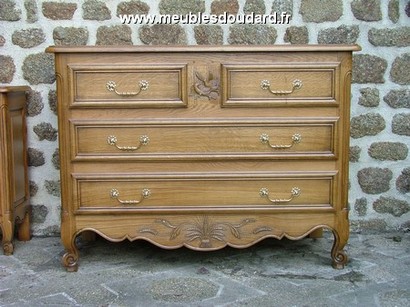 COMMODE REF EPI OF WHEAT
Norman chest of drawers ref ear of wheat, 100% solid oak. 4sheets, 2 large and 2 small.1,15 x 0,85 x 0,55 Its decor is sober with a sheaf of seven ears of wheat. Symbolizing happiness and ...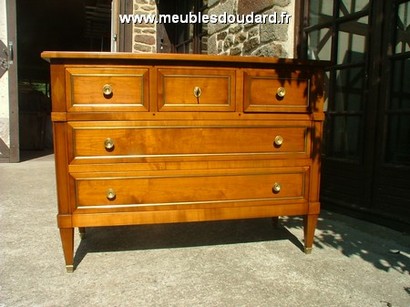 MERISIER DIRECTORY DRAWERS
5 chest of drawers in cherry style DIRECTORY, solid cherry of France, solid beech back, Dimensions: W 110 X H 85 x P 50 cm. Feet spindles with brass hooves, inlay of a rhombus ...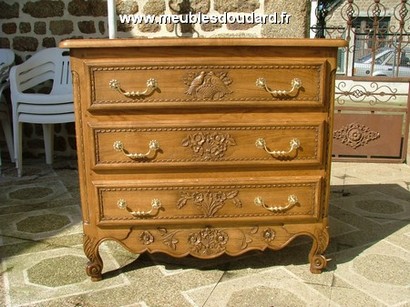 REF ROSE
Small dresser ref pink 100% solid oak, 100 x 85 x 55 with 3 drawers, solid brass handles, volute feet with acanthus leaf, nail strokes on the baguette, bouquet ...