Destocking / Complementary furniture
Complementary furniture in oak and cherry
Doudard Furniture offers linen cupboard, oak bars, shoe furniture, cd and dvd columns, kitchen block, office binder, etc ..
Clearance
-20%
3 bar stools ref NEY16 (CLEARANCE)
Batch of 3 Beautiful bar stools ref NEY16 (DESTOCKING) Manufacture high-end: Assemblies by tenons and mortisesManufacture in oak 100% solid.Stool bar oak ref NEY16 oak ...

Clearance
-20%
Showcase Library Modern 2 Sliding doors ref Crystal (CLEARANCE)
Superb Modern Library Showcase 2 sliding doors in solid oak. Top-of-the-range construction: Mortise and tenon joints. 100 solid oak furniture. 2 Drawers on ...

Clearance
-20%
Modern Showcase 1 Oak Door (CLEARANCE)
Beautiful modern showcase 1 oak door.High-end manufacture in oak: Assemblies by mortise and tenons.Incrustations of ceramics.The 4 shelves are glass and adjustable on ...

Clearance
-15%
Office File Cabinet in Solid Oak (DESTOCKAGE)
Beautiful office binder in solid oak from France. (DESTOCKING) Quality manufacturing with mortise and tenon joints.1 Drawer on wooden slides.3 Drawers on metal slides ...

Clearance
-20%
Confiturier Louis Philippe 1 Door 1 Solid Cherry Drawer Ref Elodie
Confiturier in solid cherry Louis Philippe style.High-quality manufacturing in solid birch.Assemblies by tenons and mortaises.Ullywood furniture cabinet.The bottoms and the drawer ...

Clearance
-15%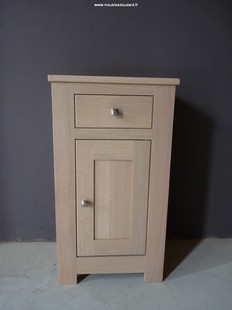 Contemporary confiturier in bleached oak Ref MU
Side cabinet 1 door with 1 drawer natural oak bleached.Confiturier contemporary ref MUDimensions: L 46 X H 90 P 35 x cm.Production of high quality: solid oak from France, assemblies ...