Destocking / Complementary furniture
Complementary furniture in oak and cherry
Doudard Furniture offers linen cupboard, oak bars, shoe furniture, cd and dvd columns, kitchen block, office binder, etc ..
Clearance
-20%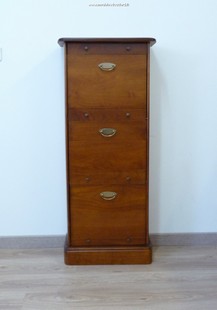 Shoe cabinet REF MC01 MERISIER DRU
Louis Philippe shoe cabinet in solid French cherry. 1 sliding drawer. 3 flap drawers for storing your shoes with a separation to optimize storage.

Clearance
-20%
Carved oak bonnet réf DES
Sculpted bonnetière in solid oak.Normande bonnetière in solid oak.Very high-end manufacturing: Handmade sculpture, mortise and tenon joints and wooden dowels.Furniture ...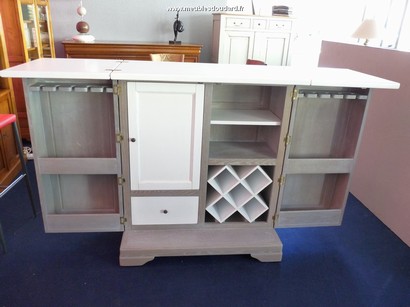 BAR Louis Philippe furniture ref DH
Magnificent Louis Philippe style bar on castors in solid oak.Foldable bar on casters.Extremely qualitative manufacture in solid oak.Assembly by tenons and mortises.1 drawer on ...

Clearance
-20%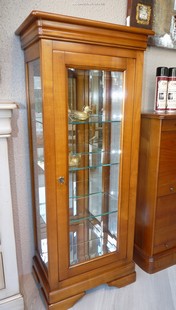 Small silver cherry showcase L13
Small display case ref L 13 for solid cherry wood collections from France. 1 glass door on the front. The sides are glazed. 1 mirror at the bottom to highlight your objects. 3 adjustable glass shelves ...

Clearance
-20%
3 bar stools ref NEY16 (CLEARANCE)
Batch of 3 Beautiful bar stools ref NEY16 (DESTOCKING) Manufacture high-end: Assemblies by tenons and mortisesManufacture in oak 100% solid.Stool bar oak ref NEY16 oak ...

Clearance
-15%
Modern Showcase 1 Oak Door (CLEARANCE)
Magnificent modern display cabinet with 1 door in oak.High-end manufacture in oak: Assemblies by tenons and mortises.Ceramic inlays.The 4 shelves are in glass and adjustable on ...

Clearance
-20%
Confiturier Louis Philippe 1 Door 1 Solid Cherry Drawer Ref Elodie
Confiturier in solid cherry Louis Philippe style.High-quality manufacturing in solid birch.Assemblies by tenons and mortaises.Ullywood furniture cabinet.The bottoms and the drawer ...